David S. Bogenrief DVM
---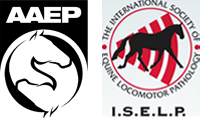 Since starting my practice in 1979 I have always strived to attend to the specific needs of both the horse and the horse owner. Each is unique and each is entitled to their own special attention. As a horse owner you know the value of quality horse care and you know the specific needs of you and your horse.
At Estrella Equine Hospital we offer the finest medical services available anywhere. Our clients range from one horse enthusiasts to commercial operations and include horses used for racing, performance, breeding, show and pleasure. I would like to help you whether you are a one horse enthusiast or a commercial operation. My staff and I look forward to assisting you.
Thank You,
David S. Bogenrief, DVM
Our Staff
---
The dedicated staff at Estrella Equine Hospital has a collective experience of over 40 years working directly with Dr. Bogenrief at the Hospital. Together they function like a well oiled machine, each with their unique abilities and talents, and acting and thinking as a united team for the benefit of the horse.
Dr. Alan Nixon, Consulting Surgeon
---
Dr. Alan Nixon is Professor of Orthopedic Surgery and Director of The Comparative Orthopaedics Laboratory and the JD&ML Wheat Orthopaedic Sports Medicine Laboratory at Cornell University. Dr Nixon has a clinical focus in arthroscopy and fracture repair, is ACVS board certified, and has authored over 230 papers and book chapters, and has written 2 texts on equine orthopedics, one in 1996 entitled Equine Fracture Repair, and a second with Dr McIlwraith in 2005 called Diagnostic and Surgical Arthroscopy in the Horse.